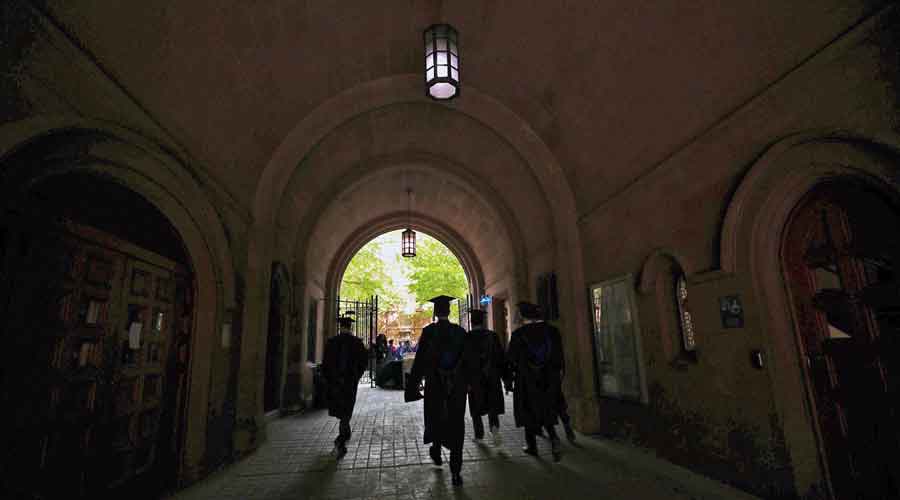 Islands in a Storm – Telegraph India
The end of the honeymoon with the liberal arts in Asia
---
|



Posted on 12/25/21, 12:02 AM
---
On August 27 of this year, Yale-NUS College, a collaboration between Yale University and the National University of Singapore, announced its closure and merger into a new interdisciplinary specialist college within NUS called New College. From 2025, Yale will only have an "advisory" role.
The announcement brought a hint of historic irony. In 2015, I had heard Peter Salovey, then president of Yale, talk about liberal arts education in Asia. At the time, I was in the process of moving from California to Delhi, to be part of the first cohort of professors at Ashoka University and to establish a creative writing department at the new university. After Salovey's lecture, hosted in Delhi by Ashoka, I asked him why Singapore, a state little known for free thought, was collaborating on the American model of liberal education. His response had struck me as prescient: that the Singapore government knew that some sort of messy democracy was coming to the country soon, and that liberal arts education was the best way to prepare its citizens for it.
There was a new enthusiasm for innovative liberal arts education across the Pacific, and I myself felt part of it. Specifically, I recognized a culture of interdisciplinary creativity as I saw it at my previous institution, Stanford, translated into a new Asian demand for innovative multidisciplinary education. At the heart of this strongly felt demand were the business needs of rapidly evolving knowledge economies. It was the kind of interdisciplinarity that went beyond the narrowly technocratic or financial aptitude that was the main mandate of specialized schools of business or technology. This liberal arts model, with a corporate enthusiasm evident behind it, was inevitably elitist and expensive. It has been generously supported by philanthropic entrepreneurs in the new digital economy. It was pretty clear why an economically ambitious and technologically progressive state like Singapore cared about it – and why it also appealed to the forms of private philanthropic higher education emerging around some of India's major cities.
But soon enough, and embarrassing enough for these early champions, it turned out that the word "liberal" has far more nuances of meaning than can easily be contained in the brilliant enthusiasm for multidisciplinary flexibility. Instead of being contained within an apolitically designed disciplinary framework, liberal education aspires to greater freedom – from the hierarchies and bureaucracies of the past, from the burdens of colonial traditions and, more importantly, the freedom to speak out. truth to power. But the relationship between these different imaginaries of education – in particular between disciplinary innovation and political freedom – has always been difficult in Asia.
The most striking achievement has come from South Korea, where, as Martha Nussbaum argued, liberal arts education in the United States has helped modernize and democratize an ancient tradition of Confucian humanism, including opening up to women and the working classes. The revitalization of the old humanist model occurred primarily as an act of decolonization in the wake of Japanese rule over Korea, where American missionaries ended up playing a key role in reclaiming the nation's identity. through education. This, however, has been a rare example of creative synergy; nothing like this has happened in other major Asian countries. The global significance of traditional Chinese culture and thought in the Confucian tradition has also been the goal behind the Chinese government's investment in liberal arts education, but the formation of active citizens or independent critical thinkers in the Western sense of the term has never been part of this goal.
Hong Kong has been caught in a historic tension – between an abandonment of the British colonial model of single-subject degrees and a broader liberal education that has been criticized as dissenting by pro-China leaders. While supporters of this education in Hong Kong have hailed his departure from mainland rote learning programs, others have blamed him as an instigator of student unrest – especially since the protests of 2014. It is a a familiar sight to us in India where debates over the meaning of free speech and the right to dissent on college campuses exploded just as the disciplines opened up to another form of freedom in elitist spaces, private, higher education.
*******
American liberal arts education has developed as humble, local and provincial. Although closely linked to the church, he was free from the larger structures of government. Without the cosmopolitan ambitions of the medieval European university, "the American college in the 19th century was a local entity," writes education historian David Labaree. In a land of competing churches, founding a quorum was an effective way to "plant the flag and promote the faith." A college was a strong claim for a sleepy country town to be on the map so that it could demand a railroad stop, a county seat, or even the state capital, and in turn, increase the value of local real estate – which perhaps explains the remote and provincial locations of so many liberal arts colleges in the United States.
The liberal arts model requires significant freedom and decentralization – institutions and faculty must have the freedom to choose their own programs and adapt them to local needs. But with freedom comes responsibility, which is often felt unwelcome. And many Asian governments remain keen to centralize higher education and are unwilling to grant significant freedoms to institutions.
It seems that the honeymoon period for the liberal arts in Asia is now over. With a growing youth population, significant student talents honed by traditional Asian attention to education, the expanding middle class and increasingly ambitious vision for higher education, this new educational model should continue to do well. function. But it is also clear that the new liberal arts institutions will inhabit like islands in a thorny mixture of admiration, suspicion and hostility in their local communities and experience inflammatory relationships with their governments. If the distrust between these islands and the oceans around them continues beyond a certain point, the pact, whether tacit or explicit, will be broken, as with the unforeseen disintegration of Yale-NUS.
(Saikat Majumdar is Professor of English and Creative Writing at Ashoka University)