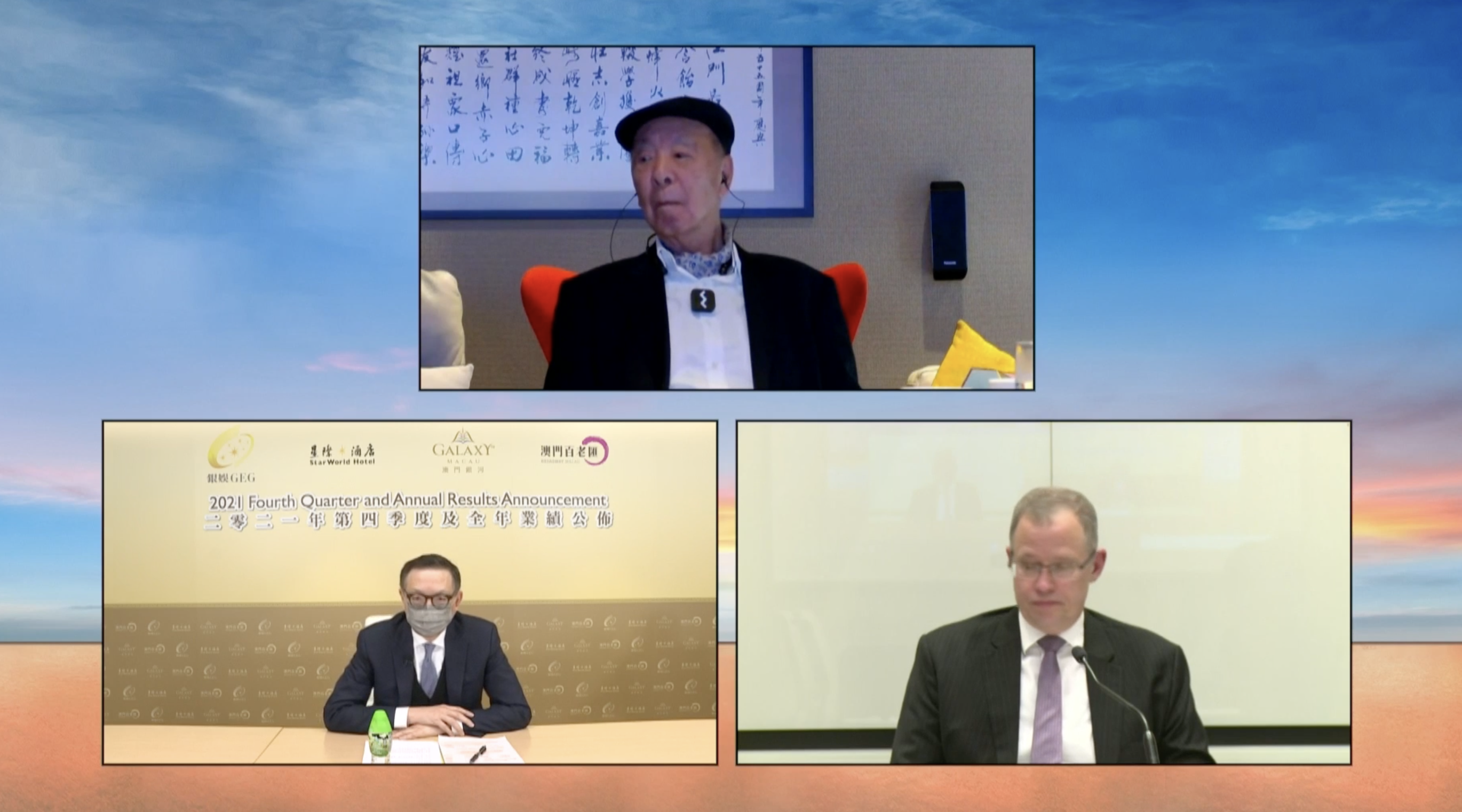 Galaxy terminated all VIP junket deals, "wait and see" approach for related satellite casinos
Galaxy Entertainment Group does not have any VIP junket operator deals at the moment, Vice Chairman Francis Lui Yiu Tung revealed today (Wednesday).
"In terms of VIP lounges and junket operators, I think that's a matter of serious concern for everyone, but I can tell you that our group no longer has junket operations. We are waiting looking forward to new amendments to the Junket Intermediary Law before assessing the situation further," Lui said during the group's Q4 2021 financial results press conference.
"At this time we have no further business with junket operators or so-called VIP lounges"
Gaming operators Sands China, Melco Resorts and Wynn Macau have also confirmed so far that they have terminated agreements with VIP promoters since December 2021.
The decisions came after increased regulatory scrutiny by authorities of VIP gambling promoters and the arrest of Alvin Chau and Levo Chan, the leaders of the city's two biggest junket groups, Suncity and Tak Chun.
Economy and Finance Secretary Lei Wai Nong said last year that agreements between junket operators and gaming concessionaires regarding VIP room activities will still be permitted in the future if they " meet all legal requirements.
Under a new gaming bill, game promoters will only be allowed to operate with one gaming licensee.
The bill also prohibits junkets from using third parties for the exercise of their activities except for "situations deemed necessary by their partners, members of the management body or employees".
Another measure to be implemented regarding junket operations stipulates that until the 10th of each month, gaming dealers will have to provide details regarding commissions paid to junkets during the previous month.
The bill has been approved by the Legislative Assembly and is currently undergoing committee-level review before a final bill is put to a vote.
Representatives of Macau's gaming regulator also met with leaders of the city's Gaming and Amusement Promoters Association on Friday, during which industry representatives raised questions about the bill to amend the Gambling Act. Games.
Regarding the impact of the decision on GEG's operations given the share that the VIP sector could have in its results, Francis Lui pointed out that in recent years the group had already turned to the premium mass.
"If you look at our results, you will see that the reduction in VIP activity had no impact on our results or our revenues. We were the first operator to return to profit in 2021 and we were able to pay dividends "It shows that what happened to the VIP sector has not had a significant impact. In the future, we will definitely develop our business other than games, entertainment, MICE, etc." he adds.
GEG's total gross gaming revenue on a managed basis in 2021 was HK$17.3 billion, up 51% year-on-year, with mass up 83% year-on-year to 11, 2 billion HK dollars, and the VIP continues to increase by 11% year-over-year to 5.5 billion HK dollars.
The group also discussed the possible future of the three City Club casinos that operate under its license – Waldo Casino, President Casino and Rio Casino – as part of the changes proposed in the Gaming Act Amendment regarding casinos operated by some thirds.
What will happen to properties that operate casinos under service agreements with gaming licensees – known as "satellite casinos" – has also left many doubts in the industry about how authorities plan to proceed.
Satellite casinos are sites controlled by independent investors, but who lease the gaming license from one of the existing concessionaires, with approximately 18 satellite casinos currently operating in the city, mostly under the gaming license of SJM.
The new bill requires that any casino operating in Macau must be established in an asset owned by a gaming concessionaire, implying that the current "satellite casino" system would need to be changed.
"I think it's too early to say how they will work in the future. Once we have more details, we will decide. The new bill provides for a buffer period of three years. I'm sure there will be enough time for the City Club boss and ourselves to sit down and consider the situation and decide what will be done.
A transitional period of three years will be granted to managers of properties holding casinos operated under service contracts to approach one of the six concessions that will be granted in the future, without further details in the law on terms of such transfer of assets would take place.
Group Chairman Lui Che Woo also told the press conference that management hopes the Galaxy Macau Phase 3 expansion could open its first bids either "by the end of this year or at the beginning of 2023".
Phases 3 and 4 combined will feature approximately 3,000 premium and family rooms and villas, 400,000 square feet of MICE space, a 500,000 square foot 16,000-seat multi-purpose arena, F&B, retail and casinos.
Phase 3 would include a new Raffles-branded hotel at Galaxy Macau, an exclusive 450-suite tower, which would be preceded by the opening of the Galaxy International Convention Center and an Andaz Macau hotel.
According to Francis Lui, the construction works for phase 3 have been "substantially completed" and GEG is "now working closely with the relevant government departments" so that the permits can be issued. timely manner.
"The day of commissioning is not fully in our control, as long as the pandemic is under control and visitors return to Macau, I am sure the government will support it. Most of the Phase 3 facilities are only no games […] we want to position ourselves with new facilities and a new design to attract new customers coming to the SAR", concluded Francis Lui.