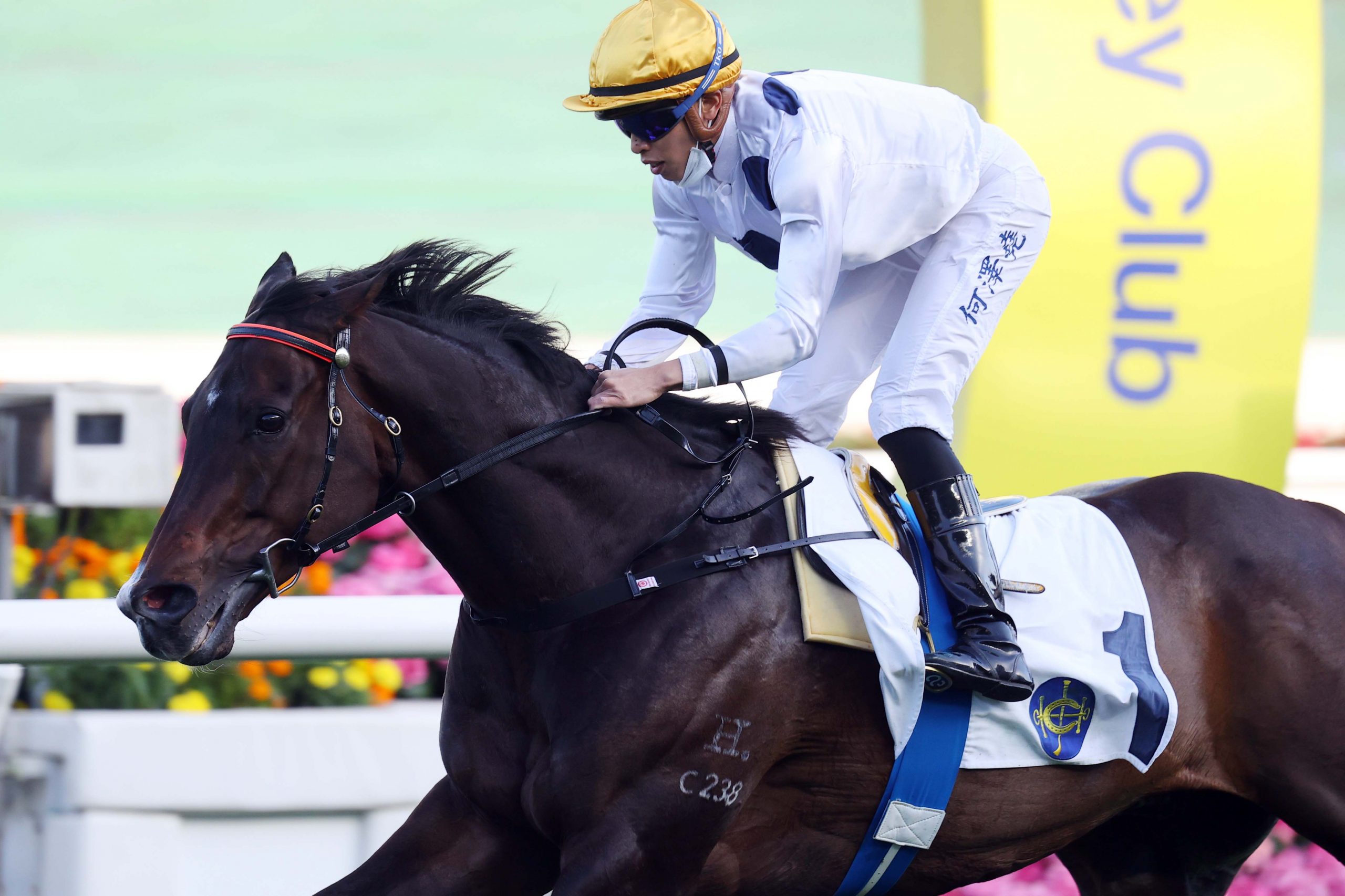 Back in business, Golden Sixty heads for victory at the G2 Chairman's Trophy
He came, he saw and he silenced the skeptics with unanswerable acceleration.
Golden Sixty crushed their rivals at Sha Tin this afternoon (Sunday April 3) with a familiar display of sheer dominance to resume their winning groove in the HK$4.75m (1600m) G2 President's Trophy for the jockey Vincent Ho and trainer Francis Lui.
"You can see his form – he's my champion," Lui said after the race.
Banishing memories of back-to-back defeats – the first of which ended his unbeaten run at 16 – Golden Sixty increased his winnings to a mouth-watering HK$102,000,600 with a victory to become the second horse in racing history. Hong Kong behind Beauty Generation to win over HK$100 million in stakes.
Turning things around to settle fourth in the race from the first barrier, Golden Sixty rode comfortably under a confident Ho before lifting off to hit the front with 300m still to play and when the rider popped the question, the six-year-old responded for a crushing two lengths with Russian Emperor and Savvy Nine completing second and third respectively.
"The last two races he was just too far behind and Vincent had to come on the outside. This time we drew the first barrier – we had no choice," Lui said. "He's an honest horse, he can jump fast and you can put him in any position and you have to relax him."
Next up for Golden Sixty is the chance to pull off a repeat of the G1 FWD Champions Mile (1,600m), with Ho sounding an ominous warning to potential opponents ahead of the HK$65m FWD Champions Day later this month on Sunday April 24.
"He's not at his peak (form) yet, because he's had time off, I'd say he was only 70-80 per cent today, although he had a good ride but he still has something to improve which is ideal before the target at the end of this month (FWD Champions Mile) – this race will bring him for sure," said Ho.
En route to victory, Golden Sixty – in the silk of Stanley Chan Ka Leung – clocked 1m 32.96s (24.87, 22.13, 23.09, 22.87).
"It was only supposed to be the last race where he got beaten, the one before, of course, I made a mistake and this time we pulled one (barrier), we had a race perfect and still he has a big turn around – it's hard for the horses behind to catch him," Ho said.
Back-to-back FWD Champions Mile winners include Bullish Luck (2005 and 2006), Xtension (2011 and 2012) and Beauty Generation (2018 and 2019).
"I think the main target is April 24 and we'll see after the race what we can do after that," Lui said.
With the victory, Golden Sixty becomes the first 20-time winner in Hong Kong – a record that has five Group 1s, four Group 2s, two Group 3s and a complete sweep of the 2020 four-year classic series that culminated in BMW Glory of the Hong Kong Derby (2000m).
"Golden Sixty, he has so many fans – thank you to everyone who supports him and Golden Sixty of course," Ho said.
In the race – Champion's Way finished fourth, Excellent Proposal fifth and More Than This sixth, while Waikuku was the last to cross the line.
Hong Kong racing continues at Happy Valley this Wednesday (April 6).
By Declan Schuster/Hong Kong Jockey Club Press Release
Photos: Hong Kong Jockey Club