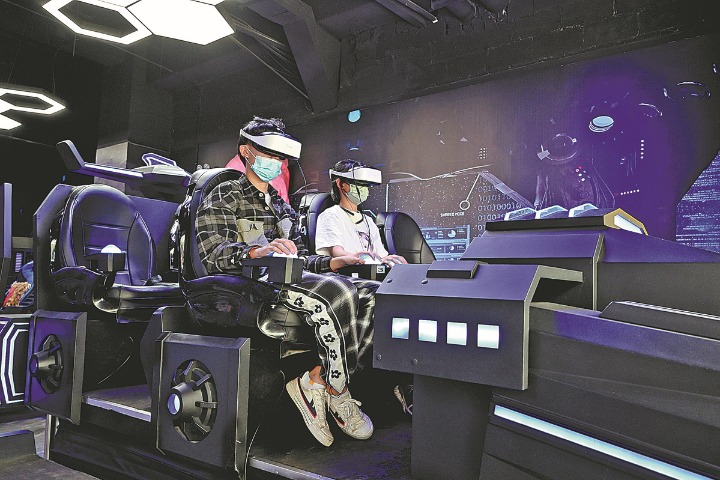 Entertainment and media thrive in China
According to a new report from Global Consulting PwC.
China will lead the world in average revenue growth in segments including virtual reality, internet advertising, video games and e-sports, according to the report.
"Most of China's entertainment and media industry recovered in 2021, and the growth rate is expected to return to pre-COVID levels in 2022 and 2023. In the near future, with the emergence of more content creators and short video platforms, we expect internet advertising to grow faster and increase its market revenue share," said Frank Cai, Head of Media at PwC Mainland China. .
Cai said the rise of the metaverse will continue to drive the application and development of innovative technologies, while digital collections will become widely accepted and used in the real and virtual worlds. The term metaverse refers to a shared virtual environment or digital space created by technologies such as virtual reality and augmented reality.
The report highlights that Internet advertising revenue in China will reach approximately $185.3 billion by 2026, growing at a compound annual growth rate of 13.1%, as new forms of advertising such as short-form videos and live streaming have brought new sources of growth to Internet advertising.
Notably, mobile internet advertising spending is set to dominate the growth of China's internet advertising industry, with its share of total internet advertising revenue increasing to 81% by 2026.
China's over-the-top (OTT) video market revenue is expected to reach $16.2 billion in 2026, with a compound annual growth rate reaching 7.3%.
The Chinese film industry is recovering well and the number of spectators has rebounded strongly. The country has become the world's largest cinema market, accounting for 35.6% of global box office revenue, and is expected to return to pre-pandemic levels in 2023, according to the report.
China and the United States will remain the world's two largest movie markets, with China expected to account for 26% of global box office revenue in 2026, above the United States' 22%.
PwC estimated that China's total movie revenue will reach $13.9 billion by 2026, with a compound annual growth rate of 8.62% in movie revenue over the next five years. The country's film production capacity continues to improve to meet the growing demands of Chinese audiences.
Additionally, China is the world's largest gaming and esports market, with revenue expected to grow at a compound annual growth rate of 11.3% from 2021 to reach $94.6 billion. by 2026.
Meanwhile, Chinese games are increasingly looking to expand into overseas markets. In the coming years, China's video game exports will continue to grow significantly, becoming more important than their counterparts in the United States, Japan and South Korea, driven by the rapid growth of games based on apps.
Cecilia Yau, PwC's head of media in mainland China and Hong Kong, said 2022 is a year full of uncertainty as factors such as the COVID-19 pandemic and supply chain changes continue. to have an impact on consumer behavior and the development of the entertainment and media industry. .
"The global entertainment and media industry landscape is being reshaped and consumption patterns could change drastically, while the metaverse could trigger a new wave of digitization," Yau noted.
The report notes that technological and business innovations have gradually contributed to a burgeoning metaverse and corresponding industrial ecosystem. Digital collections, virtual humans and virtual worlds have become the three most important segments of the metaverse in China.
Tech heavyweights are leading the development of the metaverse in China, while startups have also joined the market. To seize strategic opportunities arising from the metaverse and emerging technologies, companies will need to assess a range of considerations such as business models, development strategies and tax planning, he added.
More efforts should be made to promote the healthy and orderly development of the metaverse and improve related laws, regulations and industrial applications, said Shan Zhiguang, director of the information and industrial development department at the China Information Center. State, while emphasizing the importance of respecting the laws in force.